Hey there!
I am Peggy Barnes, a woman on a mission to help people live a more intentional and free life.
Over the years, I witnessed people suffering from:
perfectionism
comparison
too much clutter
lies in their minds stealing their peace
So I decided to do something about it by cleaning out messy closets in homes and in heads.
Here are a few things I know and I want to share with you
Organizing is not one size fits all
Your clutter, physical and emotional, did not appear overnight and it won't go away overnight, but it can go away!
There is hope, but you have to be ready to embrace the process of getting to a new beginning.
My mission is simple: Underneath the clutter is your best life.....let's work together to uncover it.
So that is Professional Peggy.  What is real Peggy like?
I am from a big family, the 7th of 8 kids.  When I left home, I headed to Auburn University (War Eagle!), earned my degree in Special Education, then worked in the corporate world for Sprint long distance.
35 years ago I married my husband RB, who has a gift of making me laugh.  In 1990 I "retired" to the life of being a mom to my three children, Koren (mother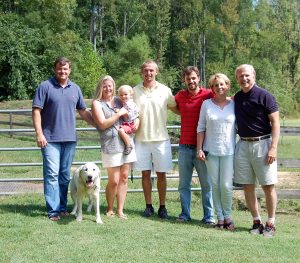 to my G-baby Barnes), Banks, and Whitman. Life was a whirlwind of cooking, cleaning, carpooling, and committees with some tennis tossed in and an occasional indulgence in a good book.   Then life happened, I needed to go back to work and I uncovered my passion for helping women get their lives in order.
I love spending time with family, hate to exercise (but do it anyway), wish I were crafty(but am sorely inept in that area), and have a real desire to see a lot of the United States (especially  if you could beam me there since I can't stand riding in the car.)
I am competitive at just about everything,  have been accused of being Type A and ADD all in one sentence, and I love to learn new things.
I have hurt, been hurt, doubted I had any gifts or talents, been fearful in the midst of very trying circumstances and wondered how I was going to get out of some extremely dark days.  I have learned to lean on God and learned when you walk through the fire and face the pain, you do eventually end up on the other side, a better version of you.