Click for more information about the 52 Week De-Clutter Challenge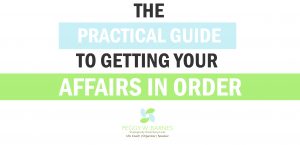 If you are interested in putting your affairs in order, attend The Practical Guide to Putting Your Affairs in Order Seminar Series.  This seminar will help you open the discussion with family members and assemble all the end of life information you will need.
There will be 4 meetings in this seminar series.  Each meeting will focus on a different topic of the end of life preparation.
Estate Planning and Financial Considerations
What You Need to Know about Senior Living and Senior Care
All You Need to Know about Advanced Care Directives
Paperwork, Preparations, and Practical Things.
Seminar Dates:
Tuesdays -January 30th, February 6th, February 13th and February 20th
Seminar Time:
6:30 pm - 8:00 pm
Seminar Location:
McCarthy Court Independent Living
1321 McCarthy Blvd., New Bern, NC
Registration is required.
The cost to register for all 4 sessions is $50 per person.
Contact  Peggy W. Barnes at peggywbarnes@gmail.com or 252.670.2951 for more information.
Snacks, drinks, notebooks, and resource information are all included in the price of the seminar.
Seminar Sponsor and Speaker:  
Peggy W. Barnes, Organizer l Life Coach l Speaker
Peggy is a certified professional organizer, life coach, and speaker.  Her mission is simple: Strategically guide people, through organizing, coaching, and speaking, to make room for life by getting rid of clutter and by living with strong intention.
Peggy's years as a certified professional organizer, life coach, and volunteer have given her an inside look into people's lives.  She understands we all need help organizing our physical and emotional "stuff" and learning how to navigate through our head to live a more peace-filled life.   She has also helped many people get their affairs in order to help families prepare and allows life to be lived more freely.
Seminar speakers:
Mary Lou Infinito, Vidant HealthCare
Mary Lou Infinito graduated from Nursing School in 1980.  Mary Lou started her career in Oncology Nursing and from there became interested and involved in many different areas of end of life care over the years. It was when Mary Lou looked at all her life experiences with patients and their families as well as her many personal experiences and her volunteer work together that she realized she was always meant to help people be a part of the dying process for themselves and those they loved. Mary Lou's greatest life experience was working with Mother Teresa in Calcutta, India where the impact of recognizing that everyone deserves to die with dignity was powerful.
Mary Lou is an Outreach Program Coordinator for Advance Care Planning with Vidant Health covering the Southern territory where she lives in New Bern, North Carolina and beyond. This work assists in making advance care planning a routine part of health care in an effort to assure that both families and the medical community are aware of and can follow a patient's individual choices for care.
As a certified instructor in Respecting Choices – both First Steps and Last Steps, the End of Life Nursing Education Consortium (ELNEC), and The Serious Illness Care Program as well as a Hospice Volunteer she is excited to be able to provide additional education, insights and support to providers and communities throughout eastern North Carolina and beyond.
Catherine Lawrence, Five Star Senior Living
Catherine is Director of Admissions at Homeplace of New Bern, a Five Star Senior Living community.  She participates with families in coordinating the transition of their loved ones into assisted living or memory care.  Prior to joining the team at Homeplace Catherine worked as a staff nurse in critical care and later became a Hospice RN Case Manager.
She is involved with the Coastal Coalition for End of Life Awareness, NC Alzheimer's Association as a certified support group facilitator, ELNEC (End of Life Nursing Education Consortium), and is also certified as a Second Wind Virtual Dementia Tour facilitator.  She is currently a Masters candidate for a Master's Degree in Nursing Education.
John W. King, Jr. - Attorney
Attorney John W. King, Jr. is committed to helping individuals resolve their business or estate needs through diligent and meticulous legal representation. Admitted to the North Carolina Bar in 1980, he has been part of our legal team at Stubbs Perdue, since September 1997. His practice areas focus on business formation, real estate, estate planning, estate administration, elder law, corporate transactions, civil litigation, and foreclosures. When it comes to protecting the rights and interests of his clients, Mr. King is relentless, both inside and outside of the courtroom.
BV® Rated by Martindale-Hubbell®, Mr. King is a Board Certified Specialist in Real Property Law: Residential and Commercial, Business, and Industrial Transactions, and is the only Real Property Law certified specialist in New Bern, North Carolina. He is also a Board Certified Specialist in Estate Planning and Probate Law. Our firm is proud to have his level of expertise as a reliable source of information and guidance. Before joining our firm, Mr. King was actively involved in the practice of bankruptcy as well as creditor representations.
Bob Kenward - Marketing Representative - WoodmenLife
Bob is an eastern NC native and a licensed agent for the reputable
non-profit organization WoodmenLife. He specializes in assisting local
seniors and families with unique solutions as it relates to life insurance,
retirement and financial matters. He holds state licenses in life, health,
disability, long-term care and Medicare Supplements and will be educating
us on a myriad of unique options such as final expense planning,
grandparent gifting, legacy giving, 401k/IRA rollovers, fixed annuities and
more.

52 Week Challenge
52 Week Challenge
This is a journey of 52 weeks.
These 52 weeks are designed to help you de-clutter your life and your home….a little bit at a time.
Each week I am challenging people to find specific items in their homes and make decisions about those items.
When you de-clutter, by category, it makes the job easier and more fun.
At the end of these 52 weeks, my goal is that you will look at your home and know you are surrounded by those things you love, value and know you will use.
Want some extra support and encouragement?
Join our 52 Week De-Clutter Challenge Facebook Group!
Week 1 – Candles
Week 2 – Hair Care Products
Week 3 – Books
Week 4 – Electronic Cords
Week 5 – Small Appliances
Week 6 – Magazines
Week 7 – Underwear and Bras
Week 8 – Socks
Week 9 – Stationary and Note Cards
Week 10 – Spices
Week 11 – Gift Wrap Supplies
Week 12 – Outdated Canned Goods
Week 13 – Shirts and Pants
Week 14 - Paints
Week 15 – Pens/Pencils/Highlighters/Markers
Week 16 – Outdated Insurance Policies
Week 17 – Outdated Tax Returns
Week 18 – Shoes
Week 19 – Unfinished Projects
Week 20 – Vases
Week 21 – Outdated Warranties and Owner's Manuals
Week 22 – Craft Supplies
Week 23 – Knick Knacks
Week 24 – Toys
Week 25 – Jewelry
Week 26 – Purses
Week 27 - Sheets/Pillowcases/Quilts/Mattress Pads
Week 28 - Towels
Week 29 - Medicine
Week 30 – Personal Care Products
Week 31 - Belts
Week 32 - Home Cleaning Products
Week 33 - Paint
Week 34 - Make up
Week 35 -Old Bank Statements
Week 36 - Food Storage Containers
Week 37 – Pots and Pans
Week 38 - Pet Toys/Supplies
Week 39 - Electronics - Computers/ MP3 Players/Cassette Players
Week 40 - Bags
Week 41 - Party Supplies
Week 42 - Tablecloths/Cloth Napkins/Napkin Rings/Placemats
Week 43 - Cooking Utensils
Week 44 - Bathing Suits/Cover-Ups
Week 45 - Outdoor Flower Pots
Week 46 -The outside of the refrigerator
Week 47 - Board Games/puzzles
Week 48 - Greeting Cards
Week 49 – Christmas Decorations
Week 50 - Dishes
Week 51 – Casserole Dishes
Week 52 –     A WEEK OF REST!
I hope you enjoy this challenge and will take the time to de-clutter and organize your space, time, paper and mind!